Hino Dealer in San Diego
Hino Sales | Full Service Leasing | Rentals | Service & Maintenance
C&M Equipment Services
Palfinger Liftgates | Pulltarps | Maxon Liftgates
2023 Hino L6 |
Pre-Order Now
Introducing the all new Hino L Series trucks, replacing our conventional lineup. Now known as the L6 and L7, you'll immediately see the new exterior design including a bolder front fascia and optional LED headlights.
Open the door and you'll be greeted with a re-engineered interior with high-end automotive grade finishes built with commercial use durability and an eye towards increased functionality. New steering wheel controls, a large 7" LCD multi-information display, more storage and increased leg room all make your "office" more safer and more comfortable.
Speaking of safety, the new Hino L Series has integrated an entire suite of new safety systems to ensure you and your cargo get where they need to be quickly and safely. Electronic Stability Control (ESC), Collision Mitigation System (CMS) Lane Departure Warning (LDW), Active Cruise Control (ACC) and a driver's seatbelt sensor are all there to protect you mile after mile.
Last but not least, the new L series is maximizing your business's functionality with new wheelbase options, extended cab and crew cab configurations. No matter what your business needs, there's a Hino L Series there to help you do more.
TURBOCHARGED | INTERCOOLED
HINO J08E VB
 

230-260HP

 

660 lb-ft TORQUE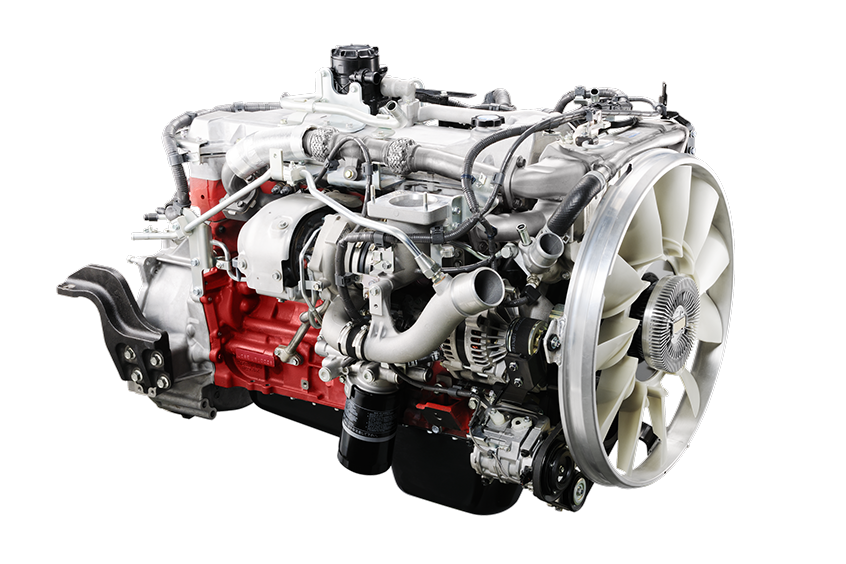 Award Winning Engines.
Hino engines deliver dependable, fuel efficient power. Hino Trucks is recognized worldwide as one of the leading innovators in engine design. Combining high-pressure Common Rail Fuel Injection, Variable Geometry Turbocharger design and cooled EGR with Selective Catalytic Reduction [SCR] for emission control allows us to optimize the air/fuel mixture across the entire speed range of our engines. The result is fuel-efficient compliance with EPA regulations.
VNT turbochargers optimize airflow by changing the turbocharger's output based on control input from the engine's electronic control unit. This allows engine designers to more accurately control cylinder pressure and air/fuel ratio. Better control means a more complete burn, resulting in better fuel efficiency and full EPA compliance.
Selective Catalytic Reduction [SCR]. Hino SCR technology not only meets the EPA Standards, it produces gains in fuel economy and it does so without the need for carbon credits!
B20 Biodiesel Rated. Hino Trucks' complete product line of cabover and conventional trucks are now approved to use up to B20 biodiesel. Going green has never been so economical!
Provides higher pressure over the entire speed range of an engine. Unlike unit injectors whose pressure varies with the "rise time" of the injection event, common rail systems are supplied by constant pressure pumps that assure instant high-pressure response for each injection event. The result is a more responsive engine and better control of fuel quantity in the combustion.
Driveline Components You can Trust.
Proven US-made driveline components on a standard 34-inch frame powered by Hino. Marry the efficiency and durability of the Hino engine to a first class selection of industry-proven drivetrain components, then attach everything to an ultra clean, solid frame. The result? Great performance from components you know and trust.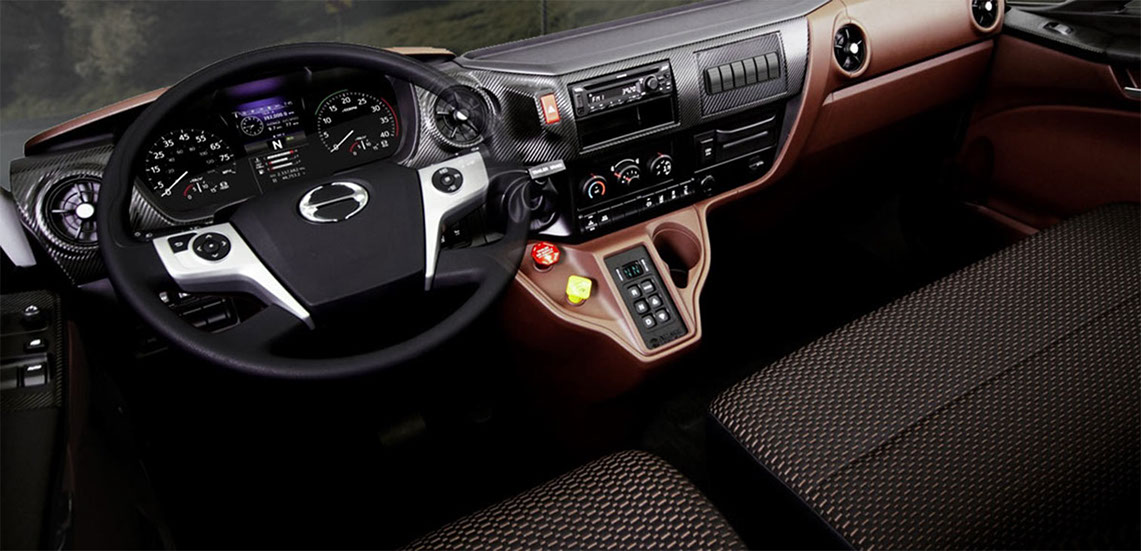 COMFORT & UNPRECEDENTED VISIBILTY
[ACTIVE] SAFETY FIRST
Safety starts before you turn on the engine.  The Hino L Series cab has been designed for safe, easy entry and exit with exterior grab handles, deep all-weather grip steps and extra wide door openings. Available LED headlights, a high seating position and a 2,385 sq. in. windshield provide maximum visibility for the driver.  Advanced active safety systems are also available on all models.
Distinguished by its rich design and automotive grade quality finish, the Hino L6 and L7 interior is easy on the eyes [styling and ergonomically] and your back. The standard air-ride driver's seat puts air between you and the rough road. Included premium features like hands-free Bluetooth calling and audio, steering wheel controls, a large LCD information center display, cruise control, and air conditioning enhance operator effectiveness.

Air conditioning is standard. So is a CD. Tilt and Telescoping steering column? Of course. Cruise control? Got it. Our goal was to make this a great place to spend the day – then make sure it makes business sense. We think you'll like the combination.
Unprecedented Visibility
We placed the driving position high to gain a wide perspective of the road while also maintaining a good feel for the corners of the hood.
Fully galvanized steel cab with extra rigidity for ride comfort and noise reduction.
Wide Enough For the Team
Standard two person passenger seat and comfortable driver's seat. Bring the team.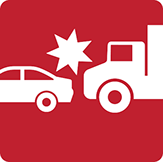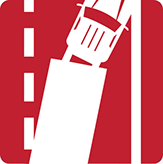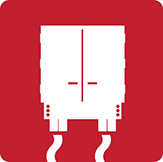 COLLISION MITIGATION SYSTEM
Available radar-based collision mitigation system provides active braking on moving and stationary vehicles — in all visibility conditions.
LANE DEPARTURE WARNING
An available camera-based system that helps reduce road run-offs, side swipes, and head-on collisions due to driver inattention or fatigue through distinct audible warnings for unintentional lane departures.
ELECTRONIC STABILITY CONTROL
Automatically intervenes when there is a high risk of directional instability that could lead to loss of vehicle control or rollover. Standard on all Tractors.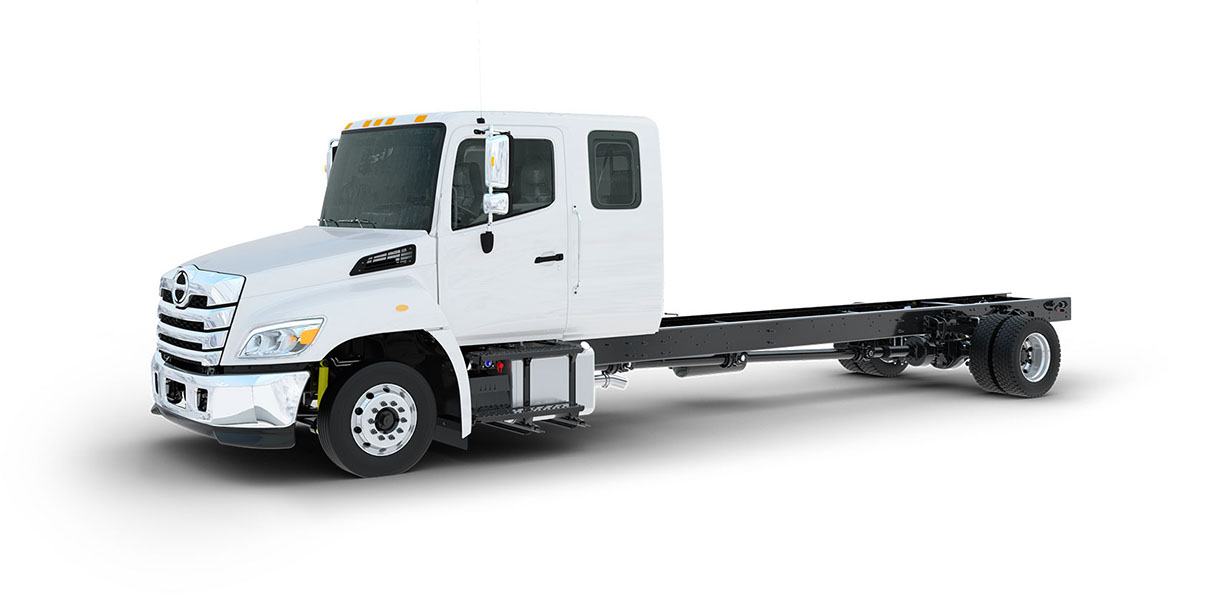 SAN DIEGO'S PREMIER HINO DEALERSHIP
C&M Motors is a full service truck leasing and sales company servicing the greater San Diego area since 1982. C&M Motors is family owned and operated, yet offers all the benefits of nationwide service and roadside assistance as a member of  Nationalease. We sell and service a premium selection of new and used commercial trucks, including specialty trucks like moving trucks, refrigeration trucks, flat beds, bobtails, dump bodies, tow bodies and more. In addition to our Service and Parts departments, we also have an onsite full service collision center.
Trusted family owned business for over 34 years
Nationwide benefits as a Nationalease affiliate
Knowledge of trucking regulations, licensing, and permits
Quality new and used truck sales
Cost effective options for truck service and repair
Outstanding customer service
Well-stocked truck parts department
Fast, flexible, and courteous response
Roadside assistance
Cost effective financing
Our stellar reputation and commitment to service, keep our customers returning. Whether you are looking for a short term truck rental or a long term lease, find out why C&M Motors is the preferred full service trucking company and Hino Truck Dealer in the greater San Diego area.